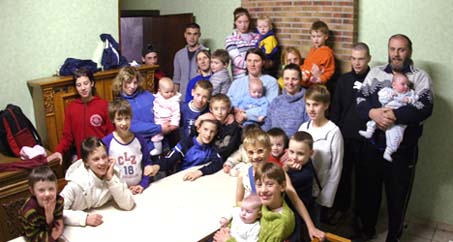 Serge Régnier (as some readers may remember) is a 47-year old Belgian with three wives and thirty children. In 1986 Régnier married Christine Wuest (who is now 38). They have fifteen children, between 19 years and 11 months old. A couple of years later, Christine's homeless sister Karine Wuest (now 35 years old) came to live with the couple. Soon she fell in love with Serge. Christine consented in her husband taking her sister as a second wife. Serge and Karine have six children, between 10 years and 10 months old.All that time, Serge had been meeting his former girlfriend Judith De Leenheer (now 38 years old). When Judith's marriage broke up – which was not altogether surprising since all her children were Serge's rather than her husband's – Serge asked his two wives whether they would mind taking her in. They did not mind. Serge and Judith have nine children, between 18 years and 10 months old. They all live together in Serge's house in Marcinelle, a town in Wallonia, the French-speaking South of Belgium.
The Belgians call Régnier, a stocky, balding man with a fringe of beard, the "Marcinelle bull." Non-Belgians wonder perhaps how he provides for his large family. Here is the answer.
Régnier applied for and received the status of an invalid from Wallonia's generous welfare authorities. He consequently receives a welfare check of over €1,000 a month. His three wives are all unemployed. Hence, they each get €800 in unemployment benefits. On top of this the family receives €4,000 in child allowances. This makes a grand total of more than €7,400 a month ($9,700 or £4,960) – all of it provided by Belgium's taxpayers. All the money matters in the household are taken care of by Serge. His wives are only interested in children. They have told the press that they each hope to have another baby in 2007.
…
Indeed, last Tuesday the Belgian paper Gazet van Antwerpen wrote that there are marital problems in the Régnier household. His three wives complain that their husband is often away from home, while they do not know where he is. They suspect there is a fourth woman. "We are partners, friends. There is no jealousy here, at least not between us three," they told the paper. But while four is a marriage, five is a crowd. The wives are also increasingly frustrated because Serge does not seem prepared to give them another baby yet. "Judith, Karine and I each want three more children," says Christine. "So did Serge a few months ago, but suddenly no more. What must we make of that?" she asks. Régnier, however, denies he is cheating on his wives. "They will get their children, but not for the moment," he says.
The wives are also cross because Régnier often withdraws into his room, locking the door. He is the only one to have a room of his own in the house. There he has a television set and a small fridge. The women complain he sits there watching football and drinking beer, while they cook, wash and iron and take care of the children. Régnier ignores their complaints, and tells the journalist: "I do not know whether you are married but if you have one wife you can imagine what it is like to have three."
…
(Source)
_________________
So let me get this straight. Follow me now, folks, because this is going to be rather earth shattering for our feminist friends.
What is the difference between Serge and a sperm donor? I can't see much of a difference, except that the wives in Serge's life have an available sperm donor living in their own home.
What's the problem?
Polygamy — artificial insemination. Can you see a difference? I can't see a difference.