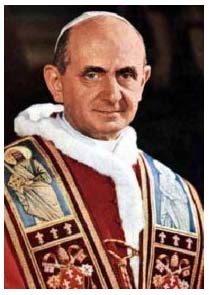 "In fact, just as man does not have unlimited dominion over his body in general, so also, with particular reason, he has no such dominion over his generative faculties as such, because of their intrinsic ordination towards raising up life, of which God is the principle. 'Human life is sacred,' Pope John XXIII recalled; 'from its very inception it reveals the creating hand of God.'
"In conformity with these landmarks in the human and Christian vision of marriage, we must once again declare that the direct interruption of the generative process already begun, and, above all, directly willed and procured abortion, even if for therapeutic reasons, are to be absolutely excluded as licit means of regulating birth.
"Equally to be excluded, as the teaching authority of the Church has frequently declared, is direct sterilization, whether perpetual or temporary, whether of the man or of the woman. Similarly excluded is every action which, either in anticipation of the conjugal act, or in its accomplishment, or in the development of its natural consequences, proposes, whether as an end or as a means, to render procreation impossible."
– Pope Paul VI, encyclical Humanae Vitae, July 25, 1968 (#13-14).
_________________ 
In other words, Jethro, if you are going to have sex, it's the real deal or nothing at all.