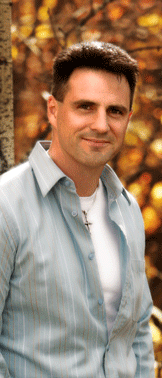 I met Mark Mallet back in 2006 when I helped organize his concert tour in Ottawa at 4 local Catholic parishes.  He's one of the few Catholic recording artists in Canada.  Although his music is not well known outside of the Catholic community, he has had some recording success.  But not what he deserves, considering his talent. 
I remember during one of the parish performances, he gave his standard 15 minute talk at the half-way point.  At this particular parish, the Spirit moved him to speak about contraception and, boy, did he hit it out of the park in a very charitable but potent way.  You could feel the unease of some of the audience, or to put it another way, "the sword piercing hearts, causing the rising and falling of many". Some people even walked out.
I also had an opportunity to sit down with him on one of the mornings and chat. Most people I talk to don't have a clue about the seriousness of the situation we are in, but Mark does.  He gets it, folks.  He really does.
You should check out his website and support him.  He's doing great work — a prophet for our country and our times.