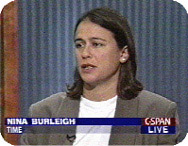 20 Jul 1998 Time magazine contributor Nina Burleigh declares: "I would be happy to give him (Bill Clinton) a blowjob just to thank him for keeping abortion legal….

So let me see if I can understand this correctly. You have a major problem with being barefoot and pregnant and serving your family because you think it is somehow demeaning to have your own children (with a man, I presume) and raise them, but you have no problem in giving Bill Clinton (who is nothing more than a stranger to you) a blowjob because he protects your right to butcher your own unborn child?

…I think American women should be lining up with their presidential kneepads on to show their gratitude for keeping the theocracy off our backs." (Source)
Theocracy might not be on your back, but you're sure eager to stay on your knees.
That sure is progress, Nina.